Services
Residential Design Service
Use the Futurebuild® LVL Residential Design Service (RDS) to get an optimised LVL engineered midfloor and/or roofing solution from concept to site fast and as easily as possible.
The service provides peace of mind by taking away the pressure and risk of designing complicated midfloors. Our design team use specialist software to design a structurally reliable, New Zealand Building Code compliant solution using proven Futurebuild LVL products you can depend on.

Contact the Residential Design Service Team today: design@futurebuild.co.nz
Why use the Futurebuild LVL RDS?
The RDS uses the full Futurebuild LVL range of products to provide cost-effective installed flooring solutions, offering the following advantages:
Optimisation:
The 45mm, 63mm and 90mm flange hyJOIST options provide the ability to optimise floor layouts, limiting:
the need for additional supporting beams
the need to close-up joist spacings in heavily loaded floor areas
No need for mid-span blocking:
Removing the need to install mid span blocking, saving time on site and reducing the possibility of the floor squeaking.
Ease of installation of services:
Such as plumbing and ventilation ducts within the floor cavity, which may avoid the need for expensive dropped ceilings and bulkheads or the installation of expensive proprietary reinforcement.
RDS SERVICE EXPLAINED
WHAT WE NEED AND WHAT YOU GET
IN FOUR SIMPLE STEPS
1. Send
Please include the following information when requesting a quote, emailed to design@futurebuild.co.nz
Architectural and structural plans (where applicable), as well as elevations and cross-sections
Include preferences for joist depth, joist spacing, as well as truss layout, etc
We may require interaction with your engineer and/or architect as applicable
2. Quantification and Design (as applicable)

As part of the design process you will receive:
A unique project code for each job, it will begin with an FS and end with a plan code eg. FL – i.e FS12345 - FL
A Project Assumptions and Limitations Report, detailing any assumptions and exclusions that may need confirmation
A set of optimised layouts including specific beam and joist layouts Note: Layouts will be stamped "Preliminary– Not for Construction" where confirmation of Project Assumptions Report is required. This may require:
1. Confirmation of proposed layout
2. Updated plans at the time of consent
3. Truss layouts; or
4. Structural Drawings
An Environmental Impact Statement, detailing the Global Warming Potential (GWP) of the detailed components
A Design Certificate detailing components designed by the RDS Team
Certificate of design work (Form 2A) and/or Producer Statement, PS1 – Design
Generation and supply of IFC files developed as part of the design
3. Prior to your builder ordering your RDS solutions
Confirm you have reviewed and accepted the Project Assumptions and Limitations Report
Provide any additional information required for finalising the layouts and removing the 'preliminary' stamps
This may include truss layouts, updated plans or structural drawings
4. Delivery

Once ordered through your merchant of choice, Futurebuild LVL will deliver into store:
LVL components - nominal lengths, individually labelled
Proprietary bracketry for floor systems, including fasteners
Waterproof Layouts/Plans
make quick work of lvl midfloors & Roofs
Contact us here.
VIEW OR DOWNLOAD - RDS ExplainED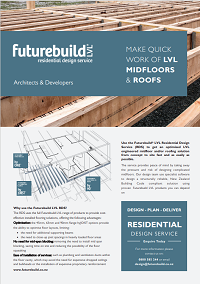 VIEW OR DOWNLOAD - ENVIRONMENTAL IMPACT STATEMENT