Birt's hyFRAME
Max Birt describes his wife's business as a "hobby that got out of hand", which is easy to see when you walk around their newly built 970m2 shed (including mezzanine).
Irene Birt runs a home staging business, working with real estate agents to prepare homes for sale by fitting them out with furniture and furnishings. A successful business like this requires a lot of storage space. At any given point in time Irene can be fitting out over 30 homes and this is where the decision to build a shed came from. For the Birt's, it couldn't just be any shed; it had to be something not just with functionality, but character too. It needed to offer a room to support the demands of Irene's business, and of course, Max's boat!
Irene Birt started her business small, but as it grew, so too did her storage requirements. From one storage unit to two, onwards to 12 storage units, it became evident that something a lot larger was required. Running a business like this from multiple locations was challenging, time was lost looking for items, items went missing and jobs were made harder than they needed to be.
After looking into commercial sites, Max and Irene decided the best thing for their budget and requirements was, in fact, a shed on their rural property in Karaka. Having looked into tin and steel sheds, Max got talking to the Futurebuild LVL team and soon realised, a timber-based LVL shed was the way to go.
Max Birt is the owner of Max Birt Sawmills, and for him, timber products offer so much more than their structural properties; "I've been sawmilling all my life and building in timber, it fits that".
Using a hyFRAME® kitset also helped Max's contractors work smarter and faster. The offsite fabricated componentry and kitset construction process ensured accuracy of assembly, reduced build time and minimised the risk of construction errors compared to onsite fabrication of componentry.
Simple, Easy and Cost-effective
Max and Irene's shed had some important factors they had to take into consideration - it needed to be simple, easy, cost-effective but strong and reliable. On top of that, the Birt's didn't want a large eyesore on their property; they wanted a building they could be proud of. As a sawmiller and timber merchant, Max knows the benefits of using timber products in construction, and it was an obvious choice to build an LVL timber shed. For their requirements, it made perfect sense to work with the Futurebuild LVL team and use a hyFRAME® portal frame solution.
The Futurebuild® hyFRAME® is a ready-to-order kitset portal frame solution, designed to work with a total build system to produce an LVL timber shed that is strong, reliable and environmentally friendly. Working with a merchant and fabricator, the kitset solution makes the entire process easy, by simplifying the framing components.
After doing a rough sketch of what he was after, the Futurebuild team helped Max to pick the right kitset solution. Even better for Max, it simplified the process: "I had so much help from the team, the whole process was pretty painless".
The hyFRAME® kitset is made from Futurebuild® Laminated Veneer Lumber (LVL), which is an engineered wood product that offers many practical advantages.
As a kitset, the hyFRAME® solution had many benefits for the Birt's to take advantage of. For Max, it also came down to the bottom dollar: "from what it is, you would have expected it to cost so much more". The natural characteristics and appearance of timber are ultimately Max and Irene's favorite element of the shed: "we absolutely love it. It's different. It's warm. It's got character". Futurebuild LVL give the look and warmth of wood, something that gives this shed a unique character and adds a homely element that fits Irene's business. Fabricated offsite, the hyFRAME® roof components were then assembled into bays on the ground and then lifted into pace, which also dramatically reduced the amount of work to be done at height, increasing site productivity. Max was pretty impressed: "we had a crane come in the afternoon, I came home, and there it was, standing up already". These productivity enhancements, coupled with the ease of construction and reduced labour requirements for installation are where the cost efficiencies of LVL structures are realised.
For the builders, working with LVL is easy. hyFRAME® systems are able to be assembled using normal wood working tools they are familiar with, and doesn't require any specialist equipment. Being lightweight, straight and uniform, LVL is the perfect building product for most structural applications.
For the Birt's, the entire process was easy. Futurebuild® LVL offered all the framing components, technical know-how, a Producer Statement for the structure, structural and construction drawings, together with engineering support. This gave Carters, the customisable building solution. Choosing to work with Futurebuild LVL meant Max and Irene and their contractors were able to utilise technical and engineering support from a team of experts. The only downside, Max is a quick to add, is "we now have a lot of very jealous friends."
The hyFRAME® range of kitset solutions are available in the pre-designed 12 or 15 metre wide spans in 3.6, 4.2 or 4.8m clear heights with 6 metre bay increments, with set kit-set pricing so it was simple to get what Max was after. The 4.8m range of building solutions now comes with options for mezzanine floor solutions subject to design confirmation.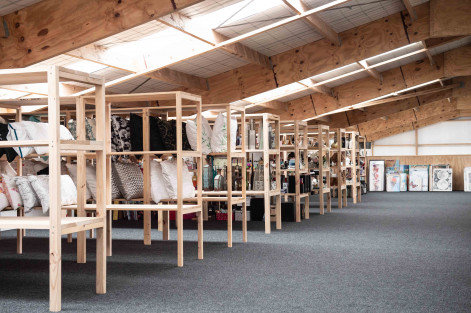 "We had a crane come in the afternoon, I came home, and there it was: standing up already."
- Max Birt, Shed Owner
PROJECT NAME:
BIRT'S HYFRAME SHED
ENGINEER:
FUTUREBUILD LVL (STANDARD hyFRAME) AND MARK MCGREGOR CONSULTANTS
BUILDER:
REGAN VIALL BUILDERS
FABRICATOR:
CARTERS MANUFACTURING
e solid section LVL members ensured a large open span area could be created.
e solid section LVL members ensured a large open span area could be created.