Te Oro - Music and Arts Centre
In the heart of the Glen Innes main street sits a busy, vibrant, state of the art community building like no other. Actualising over 20 years of community aspirations, Te Oro - the Glen Innes Music and Arts Centre for Youth - has transformed the town centre and provided a creative hub for future generations.
Consultation with local Iwi and community uncovered a recurring theme that would become the driving aesthetic for Te Oro - the intrinsic connection we have with our natural environment. "The building was conceptualised as an arboreal canopy, under which learning and creativity could occur with interiors strongly linked to the natural world and Futurebuild® LVL suited this concept perfectly", explains Lindsay Mackie, Principal Architect from Archimedia.
Comprising three pavilions interlinked by two glazed transitional areas, the numerous sound, art and performance spaces are housed within a series of hoop-like 'ribs' that support the rafters. Initially specified as a steel portal structure, the Architect decided to change to Futurebuild LVL. Lindsay Mackie elaborates "We wanted to use timber – a sustainable product that locked up carbon, and the warm tactility of timber was more sympathetic to the users and their activities".
Being one of the more complex structures to incorporate Futurebuild LVL, the design work behind the build was extensive. The biggest challenge was the geometry of the project. Karl Dawe explains "The LVL portals are designed to resist both gravity and lateral loads. The geometry of each portal varied as did internal support conditions meaning in depth analysis was required. The multi-facetted portal "knees" required particular attention from design, detailing and fabrication perspectives. We worked closely with Archimedia, specialist engineer Mark Batchelar from MLB Consulting and fabricator, Timberlab, to develop the design of the LVL and accomplish the end result".
Initially, Timberlab produced a 3D model of the structure to ensure the geometry was right. Utilising their 5 Axis CNC Bridge saw, they were able to accurately mark and cut each segment to achieve the model fit.
Once onsite, the Futurebuild portal frames and purlins were easy to install, manage and adjust due to the lightweight nature of the product. Garyth Jones, Project Manager from Hawkins was impressed with the Futurebuild LVL as a portal frame solution, "The LVL was a lot more durable than expected. It held its shape and form, was very resilient to damage and the end result looks amazing, and all parties involved concur".
The warmth and beauty of Futurebuild LVL blends harmoniously with the natural aesthetic of the building. Owen Griffiths from Timberlab agrees "Te Oro is a perfect example of what can be achieved, both aesthetically and structurally, with Futurebuild LVL".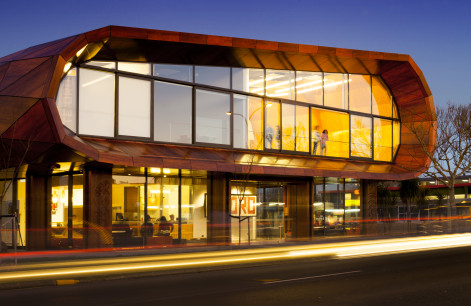 "Structurally, LVL was easy to incorporate into the design with the help of the computeIT® Software."
- Karl Dawe - BGT Structures Structural Engineer, Director
ARCHITECT:
ARCHIMEDIA
ENGINEER:
BGT STRUCTURES
FABRICATOR:
TIMBERLAB
CONTRACTOR/BUILDER:
HAWKINS