Summerset Retirement Village
The challenge was to provide a lightweight structural floor solution with inherent acoustic and fire properties.
The solution was to use Timber Concrete Composite (TCC) floors which provide the advantages of both LVL beams and a concrete screed/slab, combined using defined connection methods to provide composite action. The use of TCC floors gave Summerset an acoustic and fire rating already incourporated in a structural floor solution. The ability to provide the TCC floor system in prefabricated modules allowed the majority of the fabrication work to be completed off-site. The floors were then delivered by truck in 2.7m wide modules and lifted into place, ready for placement of mesh and concrete scred. The lightweight nature of the TCC floor systems allowed the supporting structure to be completed with Futurebuild® LVL framed walls. in lieu of more expensive support structures
The project was initially sized and scoped using the Futurebuild LVL Commercial Preliminary Design Service. The engineers at Silvester Clark were able to use the TCC floor design module in computeIT® for beams to optimise a fit for purpose structural solution, using the Futurebuild LVL range of products and available section sizes.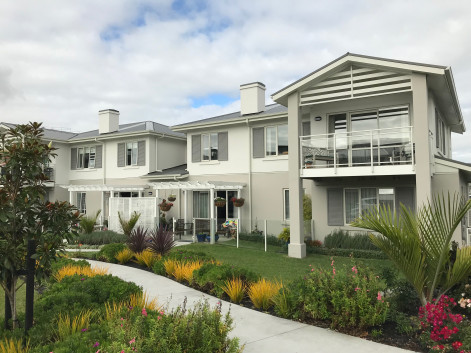 PROJECT NAME:
SUMMERSET RETIREMENT VILLAGE
ENGINEER:
SILVESTER/CLARK CONSULTING ENGINEERS
ARCHITECT:
SUMMERSET GROUP HOLDINGS
BUILDER:
SUMMERSET GROUP HOLDINGS
FABRICATOR:
CARTERS MANUFACTURING