Gibbon's Family Home
On a 9000m2 site in Ohoka, Christchurch, Simon and Sarah Gibbons' shared vision was to build a cost-effective, efficient, comfortable and dry home for their family.
After travelling around Europe, Simon and Sarah realised there was a difference between European and New Zealand homes, predominately with warmth, which sparked an idea between them to prefabricate a certified Passive House in rural Canterbury.
Passive House is a rigorous, voluntary standard for energy efficiency in a building, which is focused on reducing the building's ecological footprint. It results in ultra-low energy buildings that require little energy for space heating or cooling. Simon's aim was to build a home that requires 90% less energy than a conventional build and he engaged a certified Passive House specialist to assist with the project.
Local prefabricated panel manufacturer True Panels was selected to prefabricate the walls.
By prefabricating components of the house, Simon was looking to utilise benefits of speed, accuracy and ultimately, build a quality, warm, dry home. The accuracy and precision of prefabricated building aids in achieving the air tightness required to meet the strict Passive House standards.
"When you talk about prefabricated construction people just think you are building a square box, and that is definitely not the case. You can prefabricate any type of building, any shape or form," comments Simon. Wyatt and Gray Architects were chosen as the designers, and the end result was a gable form with large veranda, utilising New Zealand grown, sustainable, engineered wood products such as LVL framing and Plywood.
hyCHORD®, a 45mm thick Futurebuild® LVL product, was chosen for the wall framing due to its strength, stiffness and dimensional stability allowing for precision and accuracy in fabrication, which is paramount in prefabricated solutions.
As Ben Ingledew from True Panels comments, "we use Futurebuild Laminated Veneer Lumber because it's [made from pine] grown in New Zealand, it's accurate, it's straight, it stays straight, and it doesn't suffer under the elements". Precision is key in prefabrication. With hyCHORD framing you have the confidence of knowing that the sizes you are working with, are what they should be. Working with LVL also reduces the need for planing, saving time in the construction process.
The wall sections were assembled at True Panels factory in Amberley. They were delivered via truck and lifted on site into already waiting scaffolding. Efficiencies were seen with the walls up in only two days. Accuracy was critical, as Ben Ingledew comments, "the longest wall was 9 ½ metres long, and it was still within 1-2mm of its desired length." When the frames were dropped in, everything was sitting "nice and neatly" and all it took was a tap of the hammer to get it perfectly in place. Prefabrication also helped to reduce health and safety risks by reducing the work done on-site and bringing it into a controlled factory environment.
Architect Mark Gray also choose hyCHORD framing to help with energy efficiency as he comments, "as much as possible we try to avoid any steel elements within a passive house, because of the potential for thermal bridging the LVL beams have an inherent structural component about them, but are also fairly neutral in terms of thermal bridging."
Utilising engineered wood products, this project was able to achieve the accuracy and quality required, with a renewable resource, to also meet sustainability goals. Futurebuild LVL is a natural choice and has Declare labels identifying it as Red List Free.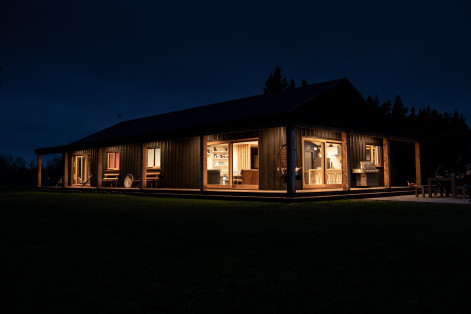 "Looking forward to spending many cold Canterbury winters with our family in this very special, warm,
dry home."
- Simon & Sarah, Homeowners

PROJECT NAME:
GIBBON'S FAMILY HOME
ENGINEER:
EZED LTD
ARCHITECT:
WYATT + GRAY ARCHITECTS
BUILDER:
L JOHNSON CONSTRUCTION
FABRICATOR:
TRUE PANELS
A cost-effective, efficient, comfortable and dry home.
A cost-effective, efficient, comfortable and dry home.