Cathedral Grammar Junior School
Replacing a much-admired historical building with a modern interpretation is both a heavy responsibility and a rare opportunity.
The ambitious design for a 'garden school' in the Garden City, perfectly suited to its site next to Hagley Park, made extensive use of exposed Futurebuild® LVL timber to create a warm and beautiful interior space, while conveying the reassuring solidity of the structure.
The Cathedral Grammar Junior School transcends stereotypes of a school environment and challenges preconceptions of timber's place in large scale construction. Where the old was revered for its historical significance, the new is remarkable for its engineering innovation, elegance and timelessness.
Cathedral Grammar Junior School is a showcase for timber engineering, sustainability, carpentry and craftsmanship. The building is unique both for its extensive use of timber-to-timber connections and for the sheer scale, degree and detail of prefabrication. Complex layers of fully pre-cut interlocking Futurebuild LVL frames remain exposed as the major architectural feature.
The precise fabrication of Futurebuild LVL, completed by Timberlab Solutions, enabled every timber element to be meticulously designed to ensure structural performance and perfect fit, right down to the smallest hole and rebate. Contract Construction carried out a trial assembly before the frames went into full scale production. All joints were assessed for tightness and accuracy, with the assembly sequence planned so the frames could be put together quickly and accurately. The precision of the completed LVL structure meant even the regular roof timbers could be exactly pre-cut off-site, saving time, money and waste.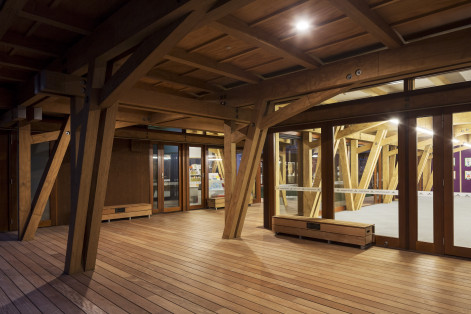 "The result of 21st century craftsmanship is a complex timber building that appears effortless."
- Andrew Barrie, Architect
Project Name:
Cathedral Grammar Junior School
Engineer:
Ruamoko Solutions
Architect:
Andrew Barrie Lab and Tezuka Architects
Builder:
Contract Construction
Fabricator:
Timberlab Solutions
Transcending the stereotype of a school environment.
Transcending the stereotype of a school environment.