New to hyJOIST?
The designIT sITe App and hyJOIST Installation Guide have been developed to provide installers with a variety of details specific to the use of hyJOIST floor and roof systems in houses. Details contained in the APP and Installation Guide have been appropriately engineer designed and/or tested to determine their suitability. In addition, many details in NZS 3604 and other industry publications are equally applicable to hyJOIST as for conventional timber joisted floors – use them. This includes, but is not limited to, applications like 90x45 solid blocking for non-load bearing walls (NZS 3604 7.1.3.5 (a)(ii)) and for wood based sheet flooring diaphragms in accordance with NZS 3604 (refer 7.3.3.3).
Some of the key differences in installation of hyJOIST compared to solid sawn timber sections include, but are not limited to:
Dimensional stability: hyJOIST typically removes the need for packing and planing – saving time on site.
No need for mid-span blocking: ability to reduce the number of lineal metres per floor by up to 10% whilst also removing the need to install mid span blocking – saving time on site and reducing the possibility of the floor squeaking.
Ease of installation of services: easy installation of services such as plumbing and ventilation ducts within the floor cavity, which may avoid the need for expensive dropped ceilings and bulkheads or the installation of expensive proprietary reinforcement.
Lightweight: the 45mm hyJOIST floor joist range are between 22% to 40% lighter than sawn timber alternatives (span for span) which makes it easier to lift and handle.
For further information about the installation of hyJOIST products please use the following QR codes or links to download the designIT App or hyJOIST Installation Guide.
designIT®
sITe

App

Use the App to access installation details, a floor joist and hole calculator and more.
GET THE designIT sITe App NOW
1) Go to the iTunes App Store or Google Play
2) Type in the keyword "designit"if needed
3) Tap Get or Install and follow instructions
Note: For App Store you may need to authenticate your Apple ID to complete your download. This might mean entering your password or using Touch ID or Face ID if you have them set up.
hyJOIST INSTALLATION GUIDE
Download here or scan the QR code below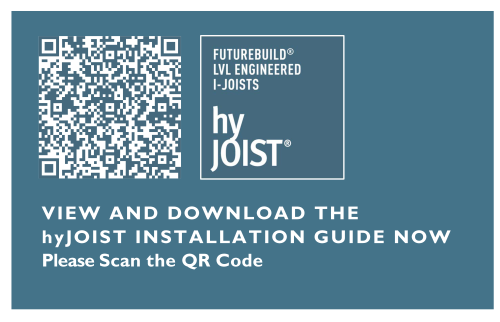 TECHNICAL SUPPORT
Almost all information for technical support download is contained within our APP and/or literature. If your enquiry goes beyond this call 0800 585 244 or email design@futurebuild.co.nz.