FUTUREBUILD® LVL hyBOUND™
hyBOUND is a laminated veneer lumber (LVL) boundary joist, which is used for lateral support of floors joists and aids in the transfer of upper storey loads.
Features & Benefits
hyBOUND is manufactured from sustainably-grown NZ plantation pine wood, which is rotary peeled, dried, and laminated together in continuous long lengths
Cross-banded for additional dimensional stability
Straight, true, strong, lightweight and dimensionally stable
H1.2 treated using a glue line and surface spray treatment to the requirements of NZS 3640.
Supported by technical support and software from Futurebuild LVL
designIT®

for Houses

software available
Veneers are bonded together using a type 'A' (marine) bond, which has proven performance for in excess of 50 years
Each stick is branded for ease of identification
EWPAA certified with stringent quality control procedures

Available FSC

®

CoC Certified on request (Certificate Number: SCS-COC-001319)
Compliance
hyBOUND products are manufactured in accordance with AS/NZ 4357 Structural Laminated Veneer Lumber with properties determined in accordance with AS/NZS 4063.2:2010 and so comply with the provisions of the New Zealand Building Code through clause 2.3 for engineering design in accordance with NZS3603:1993 Timber Structures Standard.
Futurebuild LVL is committed to manufacturing innovative engineered building products. For quality assurance, the Futurebuild LVL range is manufactured with independent audit processes and product certification.
All hyBOUND is manufactured using a Type 'A' (marine) bond with less than 0.5mg/l formaldehyde emissions from the final product (equivalent to E0).
Range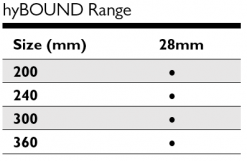 Software
Brochure
Technical Note
Sds
Product Technical Statement
Case Studies
Cad
Information Bulletin